* Understanding a door may be complicated enough, so we at Rogue Valley Door have created a list of frequently used terms that may get brought up while ordering a wood door. We hope this list will help you to understand some common terms and phrases that may appear while purchasing a door.
ARCH DOOR (SAME AS OUTSIDE ARCH)
Both the top and bottom edge of the top rail as well as the top of the stiles are curved to make an arch shaped door and no longer has a straight cut top.
APPLIED BEAD
The bead used to secure glass in on a french style door.
ARCH TOP (SAME AS INSIDE ARCH)
The top of the door is flat and has 90 degree angles at the corners and the bottom edge of the top rail has a concave curve to create an arch.
ARP (ASPEN RAISED PANEL)
A panel profile that has a long machined panel raise with a single hip.

ASTRAGAL
A wooden molding attached to one or both meeting stiles of a pair of double doors.
BAR
A narrow rabbeted horizontal or vertical sash or door member that helps create a divided lite unit. These pieces can extend from rail to rail or stile to stile, and along the total length or width of the glass opening. Also known as a Muntin.
BIFOLD
Multi slab door from two to eight slabs hinged together and placed on a track system.
BORE
The single or double holes are created through the front to the back of the door for handset and lockset.
BOTTOM RAIL
Lowest most horizontal part of a door.
BRICKMOLD
A moulding that is used and applied as trim the exterior outside edge of a door frame.
CAFE DOORS
Come in a set of two slabs, typically the height of the door will be smaller than a normal entry door and will be installed as swinging doors.
CAMING
Smooth metal stripping that connects individual pieces of glass together in a decorative glass panel.
CASING
Moulding that varies in size used as a trim and accent on both the interior and exterior parts of a door and surrounding walls.
COMMON ARCH
Two doors that put together and next to each other create one arch, whether it be creating an a common arch door or common arch top. See Arch Top and Arch Door.
CORE
Finger-jointed pieces of wood or fire-core is placed inside the door to provide either strength or fire rating.
CROSS BUCK
Intersecting rails are diagonally placed in panels to create the shape of an "X".
DEADBOLT
A latch or a bolt that helps secure the door closed which locks and secures from the door to the door jamb or frame.
DECORATIVE GLASS
Glass which has a special pattern created from using different types of glasses with different obscurity levels and caming which holds the glass pieces together.
DENTIL SHELF
A horizontal profile that is typically placed under a glass section of a door which created a shelf or ledge to add dimension to the door. These shelves are most often placed on the upper intermediate rail of a Craftsman style door.
DISTRESSING
A refinishing technique which gives the door an aged, weathered, and worn look.
DOOR BEVEL
A cut which is angled on the lock side of a door that will allow the door to swing free of the door frame when it opens and closes.
DOOR HEIGHT
The measurement from the top to the bottom of the door.
DP RATING (DESIGN PRESSURE)
A specially formulated test that measures the performance grade of the door. Some building codes are required to meet a specific DP Ratings in order to be compliant.
DUTCH DOORS
Typically an exterior door that has a top and bottom to the door that can be used separately or used as one door.
ENTRY DOOR
A door that is placed and located on the front exterior of a home or building.
FIRE DOOR
A door that is tested and certified while resistant to fire from one location to another adjoining area for a specified amount of time.
FLAT JAMB
Interior jamb without a machined rabbet or stop.
FRAME
Surrounding area or edge of the door that encloses the perimeter of the door.
FRENCH DOOR
A door that can be placed and used as an interior or exterior door that has 1 or multiple lites that fill the length and width of the door inside the stile and rails.
FSC THE FOREST STEWARDSHIP COUNCIL (FSC)
The Forest Stewardship Council (FSC) is an international non-profit organization that promotes responsible management of the world's forests. FSC product is held to a high standard and must meet many criterias before creating a finished product.
GBG- GRILLES BETWEEN GLASS
Aluminum flat or contour bars that give the look of individual window panes within the door without having to use wood bars or muntins.
GLAZING
The elastic glue-like adhesive material used to seal glass to a surrounding frame on the door.
INSULATED GLASS- (IG)
Two panes of glass separated by a spacer and sealed together with an air space between the panes.
INSIDE ARCH
See Arch top.
INSIDE RADIUS
See Radius Top.
INTERMEDIATE RAIL
Horizontal piece that is located in between the top and bottom rail of the door.
JAMB
Two vertical pieces of the door frame that is located on each side of the door.
KERF
A thin slot that is cut along the door jambs that allows for placement of weather stripping.
LAG BOLT
Added security to prevent stile and rail separation, is only included with Rogue Valley Doors premium plus options.
LOCK RAIL
The intermediate rail that is located horizontally in middle of the door that creates door stability, typically the lockset of the door is found in line with this rail.
LOUVER DOOR
A door created and built with a series of downward-sloping and horizontal slats that allow ventilation, sunlight, but still allows privacy.
LOW-E GLASS
Glass with low emissivity that has been factory coated to help absorb and reflect heat and light energy.
MULLION
The vertical piece dividing the panels in a door, also known as a Mull.
NFRC
The National Fenestration Rating Council is a non-profit organization that maintains testing of windows, doors, and skylights for energy efficiency which allows consumers who are interested and in the market for energy efficient products make an educated purchase.
OUTSIDE ARCH
See Arch Door.
OUTSIDE RADIUS
See Radius Door.
OVERHANG
A structure that extends over and protects an entryway from the outdoor elements, which helps extend the life of the door.
PANEL
Flat wood surface that is typically rectangular and have raised edges and are placed into openings of the door where there is no glass, in between stiles, rails, and mullions.
PREFIT
The process of trimming additional width or height off the size of the door to create a better fit.
PRIMED
The coat of paint which is applied and helps prepare the door before the final paint.
PRP (PLANK RAISED PANEL)
Raised panel with true v grooves 1/8"" gap between edge of panel and edge of sticking.

RADIUS DOOR (SAME AS OUTSIDE RADIUS)
The whole outer shape of the door is a steep drop and very round which gives a look of a half circle for the top of the door.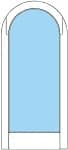 RADIUS TOP (SAME AS INSIDE RADIUS)
The inside of the door has a steep curve and round shape while maintaining the square shape of the overall door.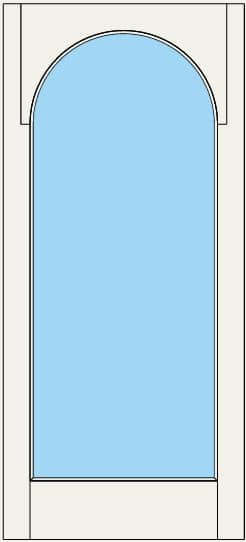 RAIL
Horizontal pieces of a door which consists of top rail, bottom rail, lock rail, and intermediate rail.
RAISED MOULDING
A decorative moulding used on one or both sides of the door to provide depth and character to the door.
RO (ROUGH OPENING)
Opening in a wall or framework that allows for the installation of a door. The dimensions of the rough opening will be larger than the actual unit to allow for shimming to stabilize the unit into the framework.
SDL (SIMULATED DIVIDED LITE)
Doors that use one piece of glass, but have bars or muntins applied to the interior and exterior of the glass to give the look of multiple panes of glass in the doors.
SINGLE PANE GLASS- (SG)
A single pane thickness of glass in a door which can be one piece or multiple pieces for a multi-lite door.
SIDELITE
A stationary unit that contains panel and/or glass that is placed and installed on one or both sides of the the doors.
SILL
The lowest horizontal piece of a door frame.
STILE
The two outermost vertical pieces that run the length of a door.
SOLID FACE LAMINATION
Two pieces of solid lumber with opposing grains to minimize warping and twisting of the materials.
SPEAKEASY
Typically seen on rustic style doors, this component can be used as a door viewer to see the outside before opening the door or used as just a decorative piece to the door.
STICKING
A pattern machined on the inside edge of all the rails and stiles that then will cover the edge of the panels and keep the panels from moving.
STOP
A moulding that is placed in the door frame to prevent the door from opening or closing beyond a set point.
TDL (TRUE DIVIDED LITE)
Bars or muntins are used to separate each piece of glass that is placed in the door to create a multi-lite door.
TEMPERED GLASS
Also known as safety glass, the glass has been strengthened by heat process. Therefore when glass is broken the whole piece of glass breaks and shatters into small pieces.
TOP RAIL
Upper most horizontal part of a door.
TRANSOM
A horizontal member that is typically set above a door and side lites to add another component to the door unit.
TRANSOM - DIRECT SET
Glass goes into frame only no sash that is placed horizontally above a door.
TRANSOM - SASH SET
Glass with stile and rail that is located and placed above the door unit.
UNIT DIMENSIONS- (UD)
The precise measurements of the door from the width and height of the outermost edge of the door which includes the frame and sill.
VENEER
A sliced piece of wood from a log, cant or flitch which is then sanded and placed on the core to create the outside face of a door.
WARRANTY
A written statement from the manufacturer that the product will meet and uphold to certain standards and will be repaired or replaced if necessary and met within a specified time period.
WEATHERSTRIP
Material that is placed between the frame and door to create a seal that prevents water and air while the door is closed.